Bring your RV to our shop if it needs body repairs.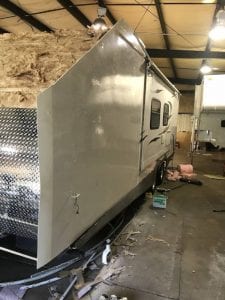 Owning an RV comes with all kinds of perks. It's a fun way to travel and be spontaneous, and it allows you to go out and enjoy nature while still having the comforts you would enjoy at home. But just like any other vehicle, your RV may need repairs every so often.
When you think of RV repairs, you might think of repairs that are solely for your vehicle's mechanical parts. For instance, repairs for your bearings, axles, or battery might come to mind. But RV body repair can be just as important. Of course, it improves your RV's appearance, but it may also be necessary for functionality, so you should know where to turn when you need RV body repair work done. If you're in Greensboro, North Carolina, our team at Triad RV Repair LLC can help you out.
We have been in this business for several years now, so we understand the kinds of problems RV owners face. Whether your RV has been in a collision or is dealing with delamination, we can resolve its issues. We provide several types of RV body repairs, such as delamination repair, floor replacement, and roof replacement, and we handle each with attention to detail to ensure high-quality, long-lasting results.
Some RV body repair work may require parts that we need to order, which may lengthen the turnaround time. However, we always keep you updated and maintain a clear line of communication.
If you need RV body repairs, turn to our team for excellent results and friendly customer service.
---
At Triad RV Repair LLC, we offer RV body repair for customers in Winston-Salem, Clemmons, Greensboro, Lexington, Advance, Asheboro, Bermuda Run, Brown Summit, Colfax, Germanton, High Point, Jamestown, King, Lewisville, Madison, Mocksville, Pfafftown, Rural Hall, Salisbury, Statesville, Thomasville, and Yadkinville, North Carolina.
Similar Services We Offer: