Get a great roof over your head while you travel with RV roof repair.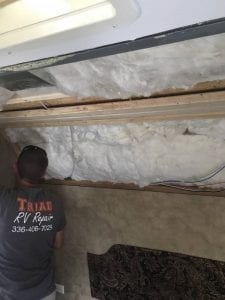 When you own an RV, you want to be able to take it out and about on your many adventures! So many of us want to use our RVs as a second home, but it's hard to have a proper home when you are worried about the roof over your head. If your RV is starting to suffer from wear and tear and sunshine, then we here at Triad RV Repair LLC would like to take a look with our RV roof repair services.
Damage to your roof can happen in a lot of different ways. Many RV roof repairs need to be completed due to problems that stem from a lack of maintenance, accidents, or simple weather wear and tear problems. These issues can start to compromise the integrity of your RV roof, causing small leaks or tears to form and then grow. When we at Triad RV Repair get ahold of your RV roof repairs, we take a look at not only what the issue is, but how we can ensure that you don't encounter this problem again.
When you come to us in the Lexington, North Carolina area looking for an RV roof repair service, you will be impressed by our quick turnaround time. This is because we value our customer time, since many of our customers are passing through! We keep an open line of communication to ensure that we can complete your repairs as soon as possible and all up to your discerning standards.
If you are looking for someone who can complete an RV roof repair, complex or simple, we are here to help you! Give us a call today to learn more.
---
At Triad RV Repair LLC, we offer RV roof repair for customers in Winston-Salem, Clemmons, Greensboro, Lexington, Advance, Asheboro, Bermuda Run, Brown Summit, Colfax, Germanton, High Point, Jamestown, King, Lewisville, Madison, Mocksville, Pfafftown, Rural Hall, Salisbury, Statesville, Thomasville, and Yadkinville, North Carolina, as well as throughout Forsyth County.