We can take care of any plumbing issues that may arise within your RV.
It's hard to imagine living without indoor plumbing, but those who enjoy camping often go without this modern amenity for days at a time. If the thought of going without access to a working restroom or sink for handwashing doesn't sound too appealing, you may prefer to camp in an RV. RV camping is a great alternative to rough camping as it offers access to modern amenities. You can still enjoy your natural surroundings without having to sacrifice your comfort. Indoor plumbing is one of those amenities, and it's one of the best aspects of owning an RV.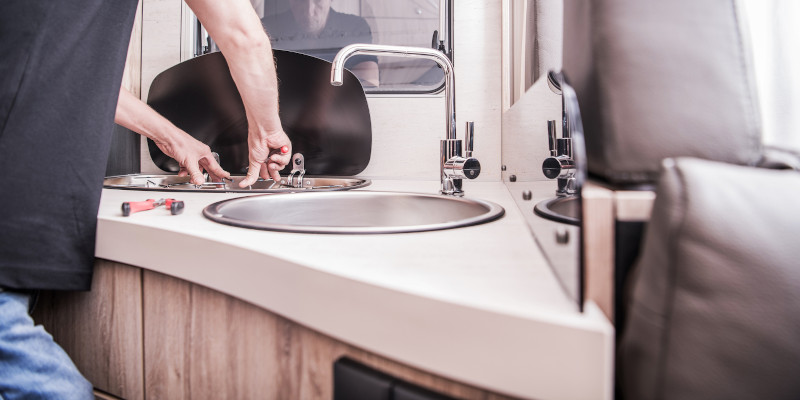 When your RV contains plumbing fixtures, you can easily take a warm shower, use a flushing toilet, wash your hands, and even prepare meals with ease. The system that supplies water to these fixtures includes a set of pipes, along with a pump and a hot water heater. The pump helps to maintain sufficient water pressure, while the water heater ensures that you have access to warm water. Your RV might include an on-demand pump, which is designed to kick on when water starts flowing through the pipes. This option reduces energy waste, so more manufacturers have started adding on-demand pumps to their RVs.
At Triad RV Repair LLC, we can take care of any RV plumbing issues that may arise within your vehicle. The last thing you want to worry about is losing access to running water when you're out on the road. If you notice any signs of plumbing troubles, bring your vehicle in as soon as possible, and we'll get to work. Our RV plumbing repair and maintenance services are available to RV owners located throughout the Clemmons, North Carolina area, so contact us or stop by today to learn more.
---
At Triad RV Repair LLC, we offer RV plumbing repairs for customers in Winston-Salem, Clemmons, Greensboro, Lexington, Advance, Asheboro, Bermuda Run, Brown Summit, Colfax, Germanton, High Point, Jamestown, King, Lewisville, Madison, Mocksville, Pfafftown, Rural Hall, Salisbury, Statesville, Thomasville, and Yadkinville, North Carolina.
Similar Services We Offer: