RV roof repair is one of our areas of expertise, and we work on all makes and models.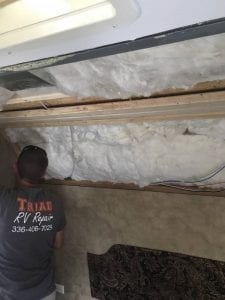 Many people love living the RV life, whether that involves living in an RV or using it as a second living space to explore the open road. However, in order to remain functional, an RV must keep certain components in good working order. The roof of your RV provides the necessary protection you need to get out on the road without being impacted by changing climate conditions. When it's not functioning properly, a damaged roof can increase the risk of moisture damage within the interior of the RV.
If you park your RV outdoors, the roof tends to take a lot of abuse. The harsh rays of the sun can break down the materials used to construct the vehicle, resulting in the need for RV roof repair sooner than expected. Constant exposure to extreme weather conditions can also threaten the safety of the roof on your RV, which is why it's best to keep your vehicle covered or parked in an area where it's not exposed to harsh sunlight or heavy rainfall. It's not always easy to know when the roof on your RV is in need of repair, as you probably don't spend a lot of time up there.
If you suspect that your RV roof is in need of repair, contact us at Triad RV Repair LLC. RV roof repair is one of our areas of expertise, and we work on all makes and models. We can also diagnose and resolve many other concerns that may be impacting your ability to use your RV as much as you'd like to, so contact us to learn more. Our shop is conveniently located for those in and around Clemmons, North Carolina.
---
At Triad RV Repair LLC, we offer RV roof repair for customers in Winston-Salem, Clemmons, Greensboro, Lexington, Advance, Asheboro, Bermuda Run, Brown Summit, Colfax, Germanton, High Point, Jamestown, King, Lewisville, Madison, Mocksville, Pfafftown, Rural Hall, Salisbury, Statesville, Thomasville, and Yadkinville, North Carolina.