If you suspect you might have a problem that needs RV roof repair, give us a call.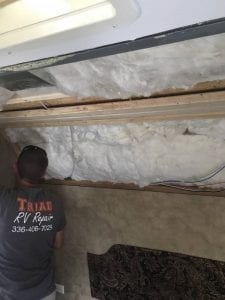 The roof of your RV is essential in providing the protection needed to enjoy the open road. Whether you use your RV as a second home or enjoy the occasional getaway from the hustle and bustle of daily life, it's important to know that the vehicle's roof is in good condition and able to prevent water from seeping through cracks and other damage. Since the roof of an RV is constantly exposed to the harsh rays of the sun, it can wear out sooner than other exterior components. Many RV owners don't realize when the roof is starting to wear out, as they don't spend a lot of time on the top of the vehicle.
Failing to maintain your RV properly can contribute to the need for RV roof repair sooner. The weather can also impact the condition of the roof, leading to small tears and cracks that allow water to start creeping in. Moisture damage is a real concern that impacts many RVs, but by having our technicians at Triad RV Repair LLC handle your RV roof repair needs, you can reduce the risk of more severe damage. If you suspect you might have a problem that needs RV roof repair, give us a call. We can start by troubleshooting concerns over the phone, offering recommendations of what we can do to fix the unit.
All of our RV roof repair services are handled by skilled, experienced, and helpful technicians. We use high-quality products that provide real resolutions to common RV roof issues.
---
At Triad RV Repair LLC, we offer RV roof repair for customers in Winston-Salem, Clemmons, Greensboro, Lexington, Advance, Asheboro, Bermuda Run, Brown Summit, Colfax, Germanton, High Point, Jamestown, King, Lewisville, Madison, Mocksville, Pfafftown, Rural Hall, Salisbury, Statesville, Thomasville, and Yadkinville, North Carolina, as well as throughout Forsyth County.