Stay comfortable in your RV with our air conditioning services.
An RV is the epitome of comfort when you're out camping in the woods or out in nature. While you enjoy the natural beauty of the world, you can rest easy knowing that the modern comforts you enjoy at home are not far away; they're just in your RV. But while an RV is designed to keep you comfortable, it's hard for it to do its job when you lack functional air conditioning. Luckily, you can turn to us at Triad RV Repair LLC for RV air conditioning installation & repair.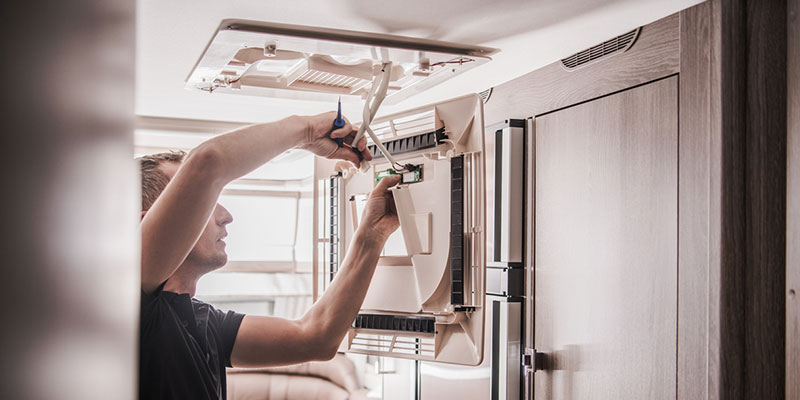 RV air conditioning installation & repair will ensure that you have a suitable environment in which you can eat, sleep, rest, and drive without discomfort. If your RV's air conditioning is no longer working optimally, we can install a new one for you. For more minor issues, such as insufficient cooling or foul odors, we can take a close look at the air conditioning system, diagnose the issue, and provide the appropriate repairs to keep your RV as cool as you want it.
We understand that you are eager to get your air conditioning up and running again as soon as possible. While manufacturer delays and shortages are out of our control, we will do our best to install or repair your air conditioning in a timely manner. Typically, even with delays, our turnaround times are around half of what our competition can produce.
If you need RV air conditioning installation & repair, contact us today. We serve Greensboro, North Carolina and surrounding areas.
---
At Triad RV Repair LLC, we offer RV air conditioning installation & repair for customers in Winston-Salem, Clemmons, Greensboro, Lexington, Advance, Asheboro, Bermuda Run, Brown Summit, Colfax, Germanton, High Point, Jamestown, King, Lewisville, Madison, Mocksville, Pfafftown, Rural Hall, Salisbury, Statesville, Thomasville, and Yadkinville, North Carolina.