Our RV body repair services include dent, ding, and delamination repair.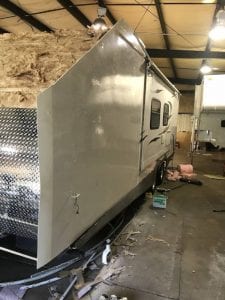 Dealing with damage to the body of an RV is a frustrating experience. Whether the damage was caused by another driver who wasn't paying attention or a mistake made when you were behind the wheel, it's important to know where to turn for RV body repair. Here in Clemmons, North Carolina and the surrounding area, our team at Triad RV Repair LLC is here to provide the repair work you need to get back on the road. Our RV body repair services include dent, ding, and delamination repair. We can also take care of water damage, paint, and other needs that may arise with the exterior of your vehicle.
Even a small amount of damage to your RV can impact your ability to take it out and explore the world around you. For many people, an RV is more than just a vehicle for recreation – it's a second home or a place where their families make memories together. We value the trust that our clients place in us, and we'll do everything we can to maintain that trust. Whether we're performing a minor ding repair or taking care of issues with delamination, we'll work quickly and efficiently to minimize the disruption to your schedule as much as possible.
Our technicians specialize in RV body repair, but we can do more than just fix the outside of the vehicle. We're also available to handle RV customization services, roof repair, tire repair and replacement, window repair, and bearings and axles. Keeping up with RV maintenance can also prolong the lifespan of your vehicle, which we can take care of for you. We're a one-stop-shop for RV service in the Clemmons area.
---
At Triad RV Repair LLC, we offer RV body repair for customers in Winston-Salem, Clemmons, Greensboro, Lexington, Advance, Asheboro, Bermuda Run, Brown Summit, Colfax, Germanton, High Point, Jamestown, King, Lewisville, Madison, Mocksville, Pfafftown, Rural Hall, Salisbury, Statesville, Thomasville, and Yadkinville, North Carolina, as well as throughout Forsyth County.  
Similar Services We Offer: