One of the services we specialize in is RV body repair.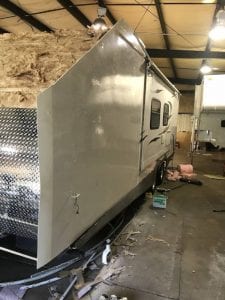 Purchasing an RV comes with a number of appealing benefits. You get the freedom and flexibility to head out on the open road and explore, no matter where you might want to go. With an RV, you're able to pick up and leave without requiring much advance planning. Some people even love life on the road so much that they pack up their homes and spend the majority of their time in their RVs. No matter how you like to use your RV, it's helpful to know who can help keep your unit in excellent condition. For RV owners in the Winston-Salem, North Carolina area, the team at Triad RV Repair LLC is here to tackle a wide range of needs.
One of the services we specialize in is RV body repair, which may become necessary if your RV has a ding, dent, or delamination. These common problems can impact the appearance of your RV, while delamination can cause more significant issues within the living space. At Triad RV Repair, we take pride in doing everything we can for our customers. When you visit our location, you'll always be greeted with a friendly smile and a helpful technician who can diagnose your RV body repair needs and come up with a plan to get started.
In addition to RV body repair, we offer many other RV services, including roof repair, customization, water damage repair, and much more. Got a question about what your RV might need? Don't hesitate  to call us, and we'll give you an answer!
---
At Triad RV Repair LLC, we offer RV body repair for customers in Winston-Salem, Clemmons, Greensboro, Lexington, Advance, Asheboro, Bermuda Run, Brown Summit, Colfax, Germanton, High Point, Jamestown, King, Lewisville, Madison, Mocksville, Pfafftown, Rural Hall, Salisbury, Statesville, Thomasville, and Yadkinville, North Carolina, as well as throughout Forsyth County.  
Similar Services We Offer: