When you work with an RV mechanic from our team, you can be confident that any maintenance or repairs you need will be done right and be affordable.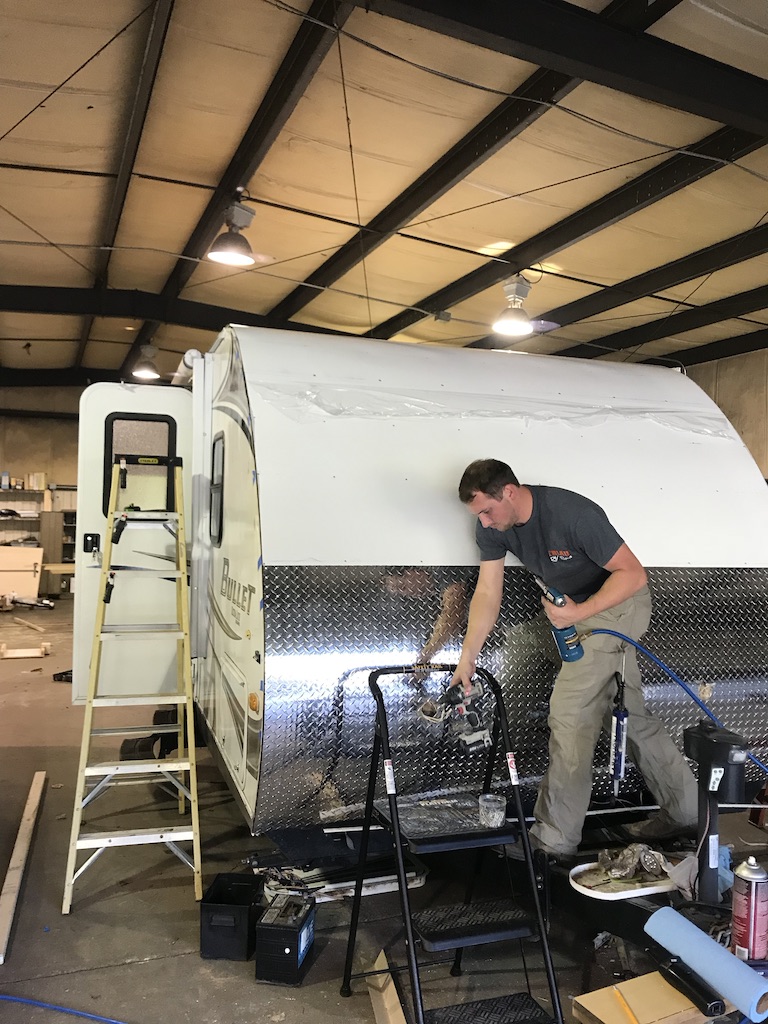 Just as you should develop a relationship with an auto mechanic to handle your vehicle's regular maintenance and repairs, you should do the same for your RV. In most cases, your auto mechanic is not going to be your RV mechanic because they lack the experience and knowledge necessary to properly care for an RV. If you own an RV and you are looking for an RV mechanic in the Winston-Salem, North Carolina area whom you can trust for all your RV care, turn to us at Triad RV Repair LLC.
We started out where you are, as RV owners, so we know how frustrating it can be to locate an RV mechanic who will take good care of your RV and not charge an arm and a leg to do it. We've heard of many RV enthusiasts becoming a bit less enthusiastic when the costs to maintain and repair their RV make them hesitate to use it. We don't think it should be that way, which is why we started this company. Our goal is to help everyone get the most from their RV through regular maintenance and affordable repairs by an RV mechanic who is passionate about good workmanship.
When you work with an RV mechanic from our team, you can be confident that any maintenance or repairs you need will be done right and be affordable. That includes exterior damage repairs, leak repairs, window resealing and repairs, roofing needs, and even RV winterizing and dewinterizing. Don't leave your RV parked and forgotten for another season! Turn to us today and begin building a relationship with an RV mechanic you can trust to keep you rolling on down the road.
FAQs Answered by Our RV Mechanics
At Triad RV Repair LLC, we don't believe you should ever have unanswered questions when it comes to the maintenance or repair of your RV or what your RV mechanic can do to keep your RV in top condition. We thought we would share a few common questions, but feel free to ask the RV mechanic working on your RV any other questions you might have.
How long will my RV repair take?
You can rest assured that the RV mechanic will complete the work as quickly as possible without sacrificing quality and accuracy. We'll keep you informed about our timelines once we've had a look and diagnosed the issue so that you know what to expect. Depending on your make and model, we'll potentially need to locate the parts, which itself can add to your repair timeline. This is due to manufacturer delays and shortages. We will always advise you what to expect when we are quoting you. We have been told that our turnaround time is typically half of what our competition is able to produce.
Why do you put such a heavy focus on keeping prices reasonable?
We have been where you are! We got into this business initially because we were RV owners who grew tired of facing dozens of repairs for relatively minor issues. We started fixing our own RV, then fixing friends' RVs, and once we gained enough experience as RV mechanics, we opened for business with the first rule of being the affordable shop we wish we could have found.
What brands and models can your RV mechanics service?
We service all brands and models. Feel free to bring us your RV, camper, pop-up tent, or whatever you hit the open road with.
---
At Triad RV Repair LLC, our RV mechanics serve customers in Winston-Salem, Clemmons, Greensboro, Lexington, Advance, Asheboro, Bermuda Run, Brown Summit, Colfax, Germanton, High Point, Jamestown, King, Lewisville, Madison, Mocksville, Pfafftown, Rural Hall, Salisbury, Statesville, Thomasville, and Yadkinville, North Carolina.